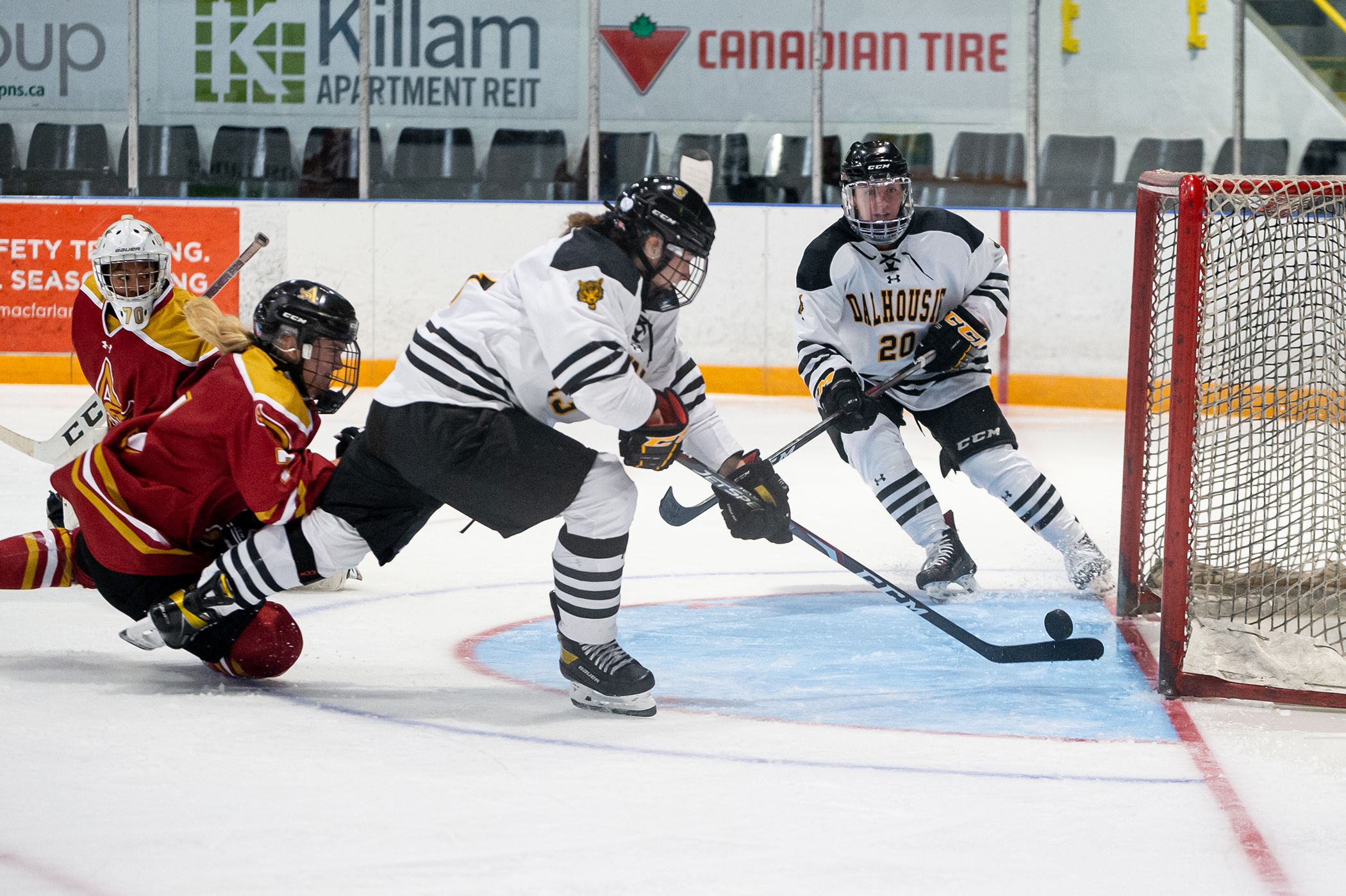 Strategy
We Need Your Support
This season, the women's hockey team is celebrating it's 20th anniversary and aims to raise $7,500 to support exhibition travel, equipment upgrades and team apparel. Your donation to the Adopt a Tiger program will help to ensure that our varsity athletes can excel on the ice and in the classroom.
About Our Team
The Dalhousie varsity women's hockey program began in 2002 and has made a mark on the Atlantic University Sport (AUS) scene with numerous AUS playoff appearances and a second place finish in the 2005-06 season that gave the team a bye to the U SPORTS championships, held in Antigonish, N.S. that year.
In the last 20 years over 150 Tigers women's hockey players have earned U SPORTS Academic All-Canadian status for earning a 3.50 or higher GPA as a varsity athlete, and in 2012 Miranda McMillan received the prestigious honour of being named one the U SPORTS Top 8 Academic All-Canadians. Two of Dalhousie's women's hockey players have also been awarded the U SPORTS Student-Athlete Community Service Award in 2005-06 and again in 2009-10 for outstanding contributions to the community.
Adopt a Tiger Program
The Adopt a Tiger program offers supporters an opportunity to assist the Dalhousie women's hockey players in their pursuit of excellence as they balance the demands of being varsity student-athletes. Funds raised through Adopt a Tiger help ensure that the student experience offered to Dal Tigers is as superb as their commitment to represent our university.
If you would like more information about this campaign, please contact Jessica Feader at Jessica.Feader@dal.ca.
Supporters
Darlene Kenney
I am very happy to donate towards the success of these student athletes in the woman's hockey program. We are very proud of our granddaughter, Mackenzie Drake and wish her and the team all the best.
Muriel Hines
Our granddaughter has the honour of playing for the Dalhousie Tigers and we know how much this means to her to fulfill a life-long dream to play university hockey.
The Drakes
Good luck and Go Women Tigers!!!!
Norman Kenney
Paula Krats
Strong supporter of female hockey
Danielle McNally
Great group of student-athletes. Every little bit helps. Good luck!