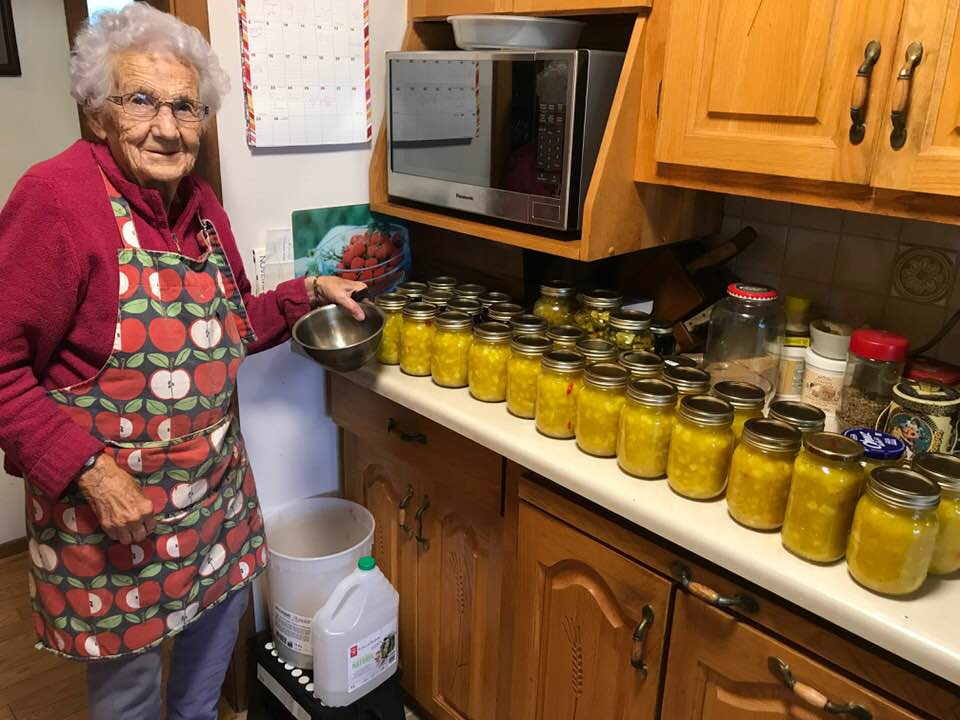 Story
Merle W. Taylor (née McIntyre) was raised on a grain farm in Manitoba and served her country during WWII in the RCAF where she specialized in wireless communications and Morse code. She taught air crew from Commonwealth countries as part of the British Commonwealth Air Training Plan. After the war, she settled on a farm in North Lochaber, Nova Scotia, with her husband, Fred, and raised five sons. Theirs was a mixed farm with dairy, strawberries, blueberries, and pulpwood as cash crops. In the early years, Merle took the lead in managing the dairy herd.
When the dairy industry underwent consolidation in the 1960s, they sold their milk quota and small herd and devoted more acreage to strawberries and other crops. As time passed, the low bush blueberry operation built up and about 40 acres of woodlot area were converted to Christmas tree production. After her husband died in 1982, Merle devoted herself to keeping the farm productive, eventually working in support of one of her sons and his wife. Christmas trees became a major passion as she loved the quiet hours trimming the young fir accompanied by her loyal Labrador retriever. Her natural leadership qualities resulted in her becoming president of the Northeastern Christmas Tree Association. She held this volunteer position for many years and was the first female inducted onto the Nova Scotia Christmas tree Wall of Fame.
Merle's benevolent nature benefited others in many ways. For example, hundreds of patchwork comforters rolled off her sewing machine. Many were donated to charities or auctioned off as fundraising for the local community association. She was an avid supporter of the Eastern Nova Scotia Exhibition and the Maritime Fall Fair, often competing in multiple categories with products from the farm. She excelled at producing pickles and jams and received the Bernardin Prize as canner of the year at the Maritime Fall Fair on multiple occasions.
Her many contributions to the regional community were recognized with a Caring Canadian Award from the Governor General. Merle continued a productive schedule in her own home until her death, April 22, 2021, at the age of 97. Besides her sons and daughters-in-law, she left behind 15 grandchildren and, at present count, 31 great grandchildren, as well as an enduring legacy in her community.
Honouring Merle Taylor's Legacy
In memory of the late Merle Taylor, an endowed fund has been created to support current and future Dal agricultural students. To date, $125,000 has been raised, which is enough to support one student per year. The family wishes to double that amount to ensure two students per year will be supported. This fund will enable students to pursue a summer research internship. Each internship will be led by the faculty and can involve field work, laboratory studies and/or theoretical and computational investigations. Together we can support students that demonstrate academic excellence and research potential.
If you have questions about this award or would like to make a gift of securities, please contact Lisa Doucette at lisa.doucette@dal.ca or 902.220.7937.